Change Management Lesson: The Butterfly Effect: A Story of Organisational Change Episode 1
03 January 2022
In our animated fable about organisational change The Butterfly Effect https://www.youtube.com/watch?v=NCIa0eQw3mc&t=1s we introduce a management team based on the characters of Beavers. The Beaver is known for its hard working and innovative approach to building eco systems based on teamwork and attention to detail. In our imaginary world Beaver Community Services enjoyed prosperous times serving the local community in Beaver City. In this series of short blogs we shall analyse each episode in the fable and pinpoint the key change management lessons.
Episode 1 Times are changing
The Beavers were a great team. They loved what they did and approached their work with passion and fun and had a real pride in serving the local community. They had plenty of resources and sales were reliable and consistently grew. Everything was positive…. what was there not to like? However, gradually things were changing.
The world hit a crisis and the banks were in trouble. Clients were looking to reduce their budgets. Margins dropped. The trading position got tougher and tougher. Sales were declining. Maintenance budgets dried up and the offices started looking tiered and shabby. Team moral was in a state of CRASH. The Beavers were depressed and worried about the state of the business and of their futures.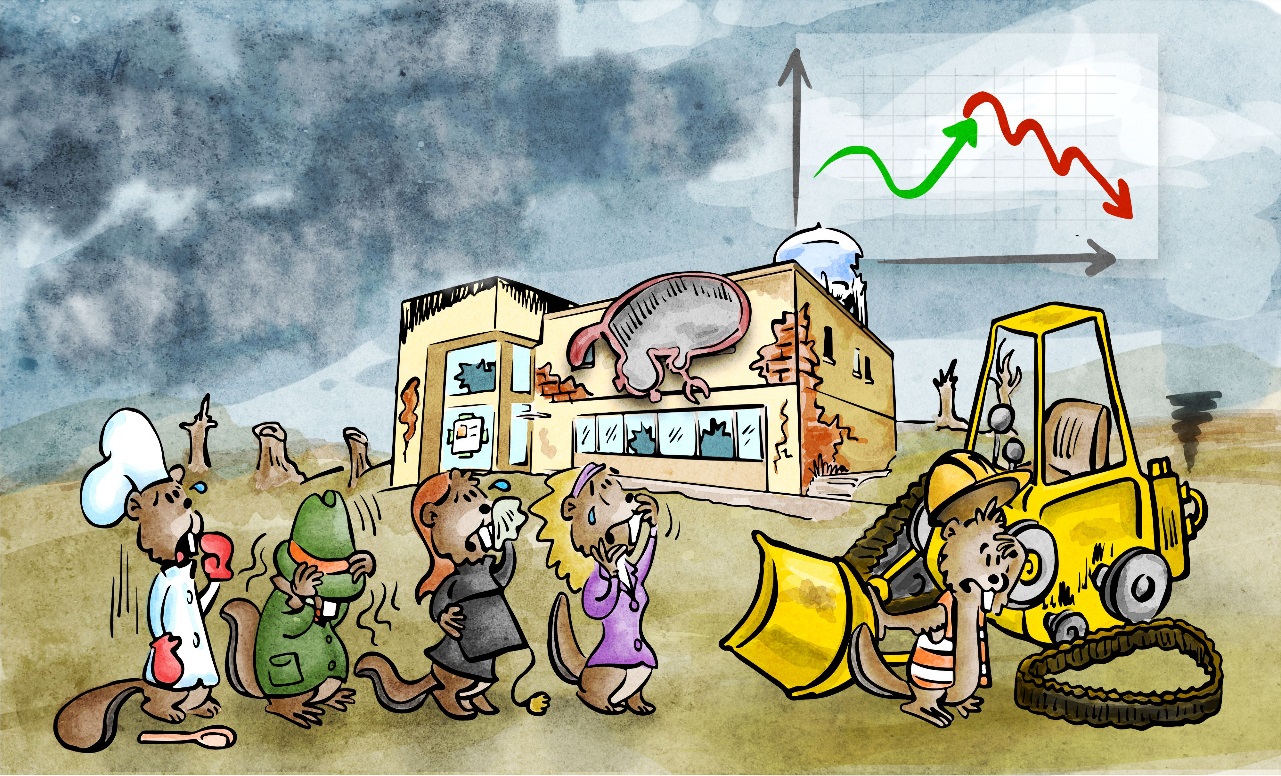 Change management lessons
Lead in the present whilst leaning into the future
In our fable change appeared to hit Beaver Community Services out of the blue. It appeared as if this was unexpected. The Beavers looked helpless. However, a crisis is always waiting for leaders of organisations some time down the road. The key thing is how do we prepare the organisational leaders for coping with not only day to day change brought about by the ordinary practice of managing the organisation ; also how do we prepare the organisational leaders for a world of work that has not yet even been imagined?
Strategy work is 'real work', so make time for it
Our approach based on our action learning courses https://www.culturalchange.co.uk/training-products is to offer a 3 day seminar on scenario planning for a successful future. We use story boarding to establish the way in which a management team reflect upon and make sense of their past, their present and we invite them as imagineers to lean into the future through analysis of change drivers to paint scenarios of their future trading environment and a picture of the kind of organisation as leaders they want to bring into the world.
The environment is constantly changing so prepare to meet your future leadership self
This is a reflective process through which we enable participants to tap into their conscious leadership mindsets and identify the behaviours, capabilities, beliefs and values that have worked for them in the past, that may be still relevant in the present and importantly in relation to the future how should these change to operate successfully.
From this reflective process these conscious leaders will be able to establish a development programme that starts to shed old beliefs, values, behaviours and capabilities and replace these with much more resourceful alternatives underpinned by an emerging new organisational identity.
Conclusion
Our approach draws on techniques taught at many business schools on MBA programmes as well as innovative personal development methods rooted in the personal development movement. We harness analytical tools with reflexive learning tools to enhance the soft leadership skills that underpin our favoured model of conscious leadership. The aim of this approach is to make sure that our clients are able to maintain their focus on the present whilst leaning into their future and preparing themselves to keep leading their teams with conscious awareness. If you would like to learn more about our approach please contact myself at [email protected] and visit our website at www.culturalchange.co.uk